SOUL DREAMS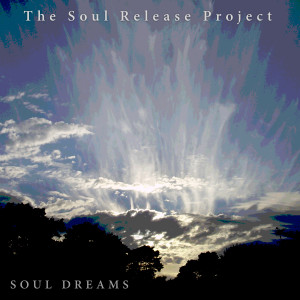 SRM:07. Soul Dreams
SOUL DREAMS ALBUM PREVIEW
Released 5th April 2014.
TRACK LISTING:
1. BEACH DREAMING
The album starts off with this beautiful dreamy meditation co-produced & Sung by Diana Butler,
this is her personal soul release,
as she walks along the shores & the essence of nature sings to her its melodies,
it evolves into a gentle progressive tapestry of sound that helps to bring you into a deeply relaxing reflective dream like state.
2. THE ALL MERCIFUL
This instrumental follows the dream like state of Beach Dreaming whilst keeping that dream like quality it blissfully takes you to a higher state of consciousness, it is a meditation on the All Merciful bliss full state of God.
The guitar playing was recorded as a piece of channelled improvisation & what you hear is purely what was captured that evening whilst in a deep state of meditation, simply let the sounds wash over you & enjoy!
3. SIRUIS
This truly is a cosmic track! A channelled meditation by Peter Livesey who has a deep connection to the star Sirius! He also plays guitar here making it sound like shooting stars through the night sky. I re-member the eveing clearly & the conversations we had, it was certainly expansive & food for thought …I hope here we have captured some of that magic for you in which to share & go deeper within your own contemplations.
4. ONE DAY I WILL KNOW YOU
We finish our journey with this beautiful dub influenced poetry track, which once again has Peter Livesey on guitar who plays a beautiful intimate gentle & melodic pattern which has a mantra like affect slowly drawing you into being captured by its hook.  This beautiful deep hypnotic back drop of sound allowed me to go into a deep reflective state which enabled me to release this personal heart felt pray to God, the universe, source, divine Love or however you like to see the beloved. These words are not just mine but an offering of Love, so with your own personal reflection through meditation it can enable you to find your own personal soul release. See what it brings up for you & maybe write down your own thoughts you might find that there are some interesting reflections that may help to bring clarity or move you forward in some way. I always say that with my music & poetry its not really about me or how much you might like the sounds but it is about finding yourself within the vibrations.
Running time: 36:53
THE PERFORMERS ON  SOUL DREAMS:
DIANA BUTLER
The singer of Beach Dreaming.
BUY the CD HERE 'Gifts4thesoul' Simply click the link below!
LISTENING RECOMENDATION:
'Soul Dreams' is a beautiful relaxing & expansive journey! It is also a very dynamic journey starting off quietly & building as it goes along helping to invoke different emotions. I recomend setting the volume level before you start your relaxation journey to track 2.'The All Merciful' & light some candles, switch off the lights & listen to whilst lying down so you can completely let go & relax, simply let the music take you to where ever your soul dreams may lead you.
'THE ALL MERCIFUL' is an expression of  love for God & makes an affective meditation
& is also highly affective for stress relief helping to enable ones growth & healing.
Written, performed, produced, recorded, mixed & mastered by Edgar James 2013.
REVIEWS:
I've just been listening – again! – to Soul Dreams. It's captivating, I love it! Just wanted to let you know and say huge thanks for it! Much love, Hilary. xxx
Magical,true,beautiful,endless,healing.Well done for bringing back the sacred sounds xx God bless xx Amy
LYRICS
ONE DAY I WILL KNOW YOU
By Edgar James
And if I was to speak words of peace,
would I know that it is from thee?
Eternal reflection of the divine one,
comes from the supreme abode.
And if you should want to taste home,
 then you know….
My Lord
Fill me with your love
Supreme giver of all pleasures,
may I know your eternal Love?
And If I should stray from a taste that is sweet,
bring me mercifully to your feet
My Lord
Fill me with your love
Let the illusion disperse from me
Let all that is holding me to this veil of insanity
Fall away
And your bliss prevail
For I know
You can set me free
My Lord
Fill me with your love
And I know what it is to be shown
What it is that my heart has grown cold
For you enlighten those who seek
And those that seek
Always fall to your feet
And I cease to be
But a servant for thee
So let me be the realization
That I seek
My Lord
Fill me with your love
My Lord
One day I will know you