RISE TO LIGHT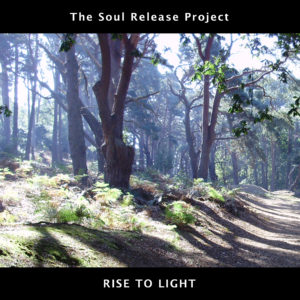 Rise To Light is an adventurous, multicultural, reflective, thought provoking & deeply rewarding therapeutic journey.
People often talk about 'rising up' in these challenging times. But rising up to what? This can be a powerful question to ask in your meditations or reflections. This is the basis of the running theme of the album.
When we talk about making changes in life in what ever way that maybe, its good to ask 'is this for the greater good?' 'Is this for the Divine Light, is this for God?' 'Is this for our brothers & sisters from all walks of life…can I be a helping hand in a way that hasn't been revealed yet?'
As we pray for guidance in our life, as we reflect in our meditations do not be afraid to ask your self 'how can I rise to light?' Then gently or boldly trust in the answer & move into a path of action & know that divine guidance will always be there for you when you are moving into a space for the greater good.
TRACK LIST:
Rise To Light (Featuring Gary Samdarili on Digerido & Daff drum
Call To The Universe
Sharing Kind
Evolve (Featuring Diana Butler on vocals)
Eternal Love
Awakening
All songs composed, performed, mixed & mastered by Edgar James 2017,
except where indicated.
Gary Samdaliri is a musician & artist. He is also a specialist in marquetry & portrait art. You can check out more about him & explore his work by his official site here: www.garysamdaliri.co.uk
Diana Butler is a Choir singer & poet, she has collaborated with me on previous projects 'Soul Dreams' & the 'Love Hope Clarity' E.P. 'Spark'. Diana is currently working on her first book of poetry that she will be publishing soon!
ALBUM PREVIEW
 DOWNLOAD THE ALBUM HERE:
TO BUY THE CD JUST CLICK THE LINK BELOW:
–
LYRICS:
RISE TO LIGHT
Light,
Its time to,
Rise,
Love.
Lord, make me an instrument of Thy peace;
Where there is hatred, let me sow love;
where there is injury, pardon;
where there is doubt, faith;
where there is despair, hope;
where there is darkness, light;
and where there is sadness, joy.
O Divine Master,
grant that I may not so much seek to be consoled as to console;
to be understood, as to understand;
to be loved, as to love;
for it is in giving that we receive,
it is in pardoning that we are pardoned,
and it is in dying that we are born to Eternal Life.
Amen.
(Prayer Of St Francis)
CALL TO THE UNIVERSE
Holy Father,
hear our prayer.
Anoint us,
with Thy Love.
Heal my soul,
heal the world.
Make me an instrument of Thy peace.
Come Holy Spirit.
Heal my soul,
heal the world.
Heal my soul.
Come Holy spirit.
Heal the world.
Make me an instrument of Thy Peace.
Heal my soul,
heal the world.
Come Holy Spirit,
make me an instrument of Thy Peace.
Amen.
EVOLVE
Evolve,
evolve,
evolve,
evolve.
SHARING KIND
When we share
We express a smile from soul to soul
A window from God
A spark of the Divine
A realisation of oneness
When we share
It is love in action
It transcends indifference
It is not built of boundaries conditioned by the mind of man
Held onto a clique of false idealism
When the basic principles are not even manifested
in the hearts by those that proclaim to be of light
And as the spark is of the one
And its truth is within the heat
Just as the sun shines its light
It is beyond simply light
Rays absorbed
Nutrients nourished
Denial cannot dine
I stop & give thanks to the
Universal reservoir of the Golden Mind
Then I see a waterfall purifying over Beingkind
And I wonder why people are motionless in their watching?
Don't they know the water is beyond Divine?
A fear of what lies behind?
Or hypnotized by a tranquil mind?
Where is the celebration from one to another?
Where is the sharing of gifts?
Where is the realization in the giver of the gift?
Ah behold behold for the eyes are fixed & the beings are in awe
And the motion of joy is slow to manifest
And in some the overflow is not even seen
And there are those who hold onto their insecurities and are not able to join into the union of another's dance of light
So they go about the garden blind and unreceptive to beings of a different light
And nature keeps budding life with out prejudice
Just as the plants & trees bears its fruits out of stillness
No conflict is insight
Openly displayed for mankind
Here too God shows sharing signs
For what is nature but a teacher to the conditioned mind?
ETERNAL LOVE
Love, love, love, love.
Holy by your grace, holy flowing wine, holy in your love tonight.
Love, love love, love
AWAKENING
Love, love, love, love.