GENERAL
CALL OF A SUFI
Although I am not a Sufi this track came out of a time that I was exploring different world chants & the Sufi tradition.
There is so much beautiful wisdom to be explored within the Sufi tradition & its philosophy & poetry is very beautiful, simple & soulful as well as expansive & mystical which helped me to explore new areas of thought. It also helps me to understand people from a different religion & world view different to mine & move into a space of love & acceptance. I often say that 'if I can't sit down & drink tea with somebody from a different walk of life or religion then can I really call myself a human being?'. The more we can learn about our brothers & sister without a hidden agenda & the need to persuade them to our way of thinking the more we can play our part in helping to spread peace on earth.
To download the full track please click the link below:
Video Promo
Composed, performed, produced, mixed & mastered by Edgar James 2012.
–
EVA SMILES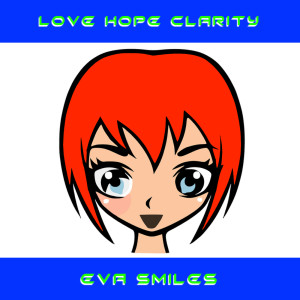 'EVA SMILES' The brand new single by 'Love Hope Clarity' is a simple joyous pop song of the heart loaded with a big smile & packed full of spirit! This was written this summer 2016 as simply a bit of fun!
How many times have you been into a cafe or restaurant & thought 'your nice!' & hoped to get served by the same waitress or waiter next week! Well this is dedicated to everyone who has been in that situation & knows that feeling only to well. It's 3 minutes of Indie pop fun with funky cool guitars, a bouncing bass line & rocking drums. EnjOy!!!
–
You can download 'Eva Smiles' by pressing the link below
YOU CAN ALSO WATCH THE FULL PROMO VIDEO & DONT FORGET TO SHARE IT WITH YOUR FRIENDS TO!!!
Written, performed, produced, mixed & mastered by Edgar James 2016
–
MUHAMMAD ALI –  A GREAT MAN
My personal tribute to Muhammad Ali who was & still is a source of inspiration to me in my life & has been a source of inspiration to millions of people through out the world on many levels so its lovely to be able to share my reflections with you in this poem. Peace & blessings & enjOy!
–
Maudib
In many ways my old band 'Maudib' with singer Phillip Lee was the origins for 'The Soul Release Project'. We were certainly free flowing & expressed our self's in a very different light to other bands on the scene at that time. These few songs, rehersals/demos take you back to a very personal & liberating time for me so I would like to thank you for sharing my memories with you. Enjoy!
FALLING
Spiritual soul heart felt song by Edgar James & Phillip Lee written in the moment in our first session together. Three songs poured through us & were recorded that evening, this was how it started the rest is history!
EAST IS EAST
A spiritual heart felt song by Edgar James & Phillip Lee written in the moment as a spontaneous flow. What you hear is the 3rd take of writing & playing 'East is East' that evening.
A DREAM INSIDE
'A dream in side' written by Edgar James & Phillip Lee. With Martin on bass & Matt on drums. Rehersal demo recording in 2000.